Translating your website is a great way to start reaching international clients, building a multilingual SEO presence, and growing your sales. One thing your competitors haven't figured out yet? It's easy to do with the right theme and plugin.
Check out the following video to see how WPML can translate an entire Blocksy site in just a few minutes:
Translate Your Site in 3 Easy Steps with WPML and Blocksy
As you already know, Blocksy makes it easy to build a fast and beautiful site without any coding skills. And because it's multilingual-ready, you can translate that site in as few as three steps with WPML!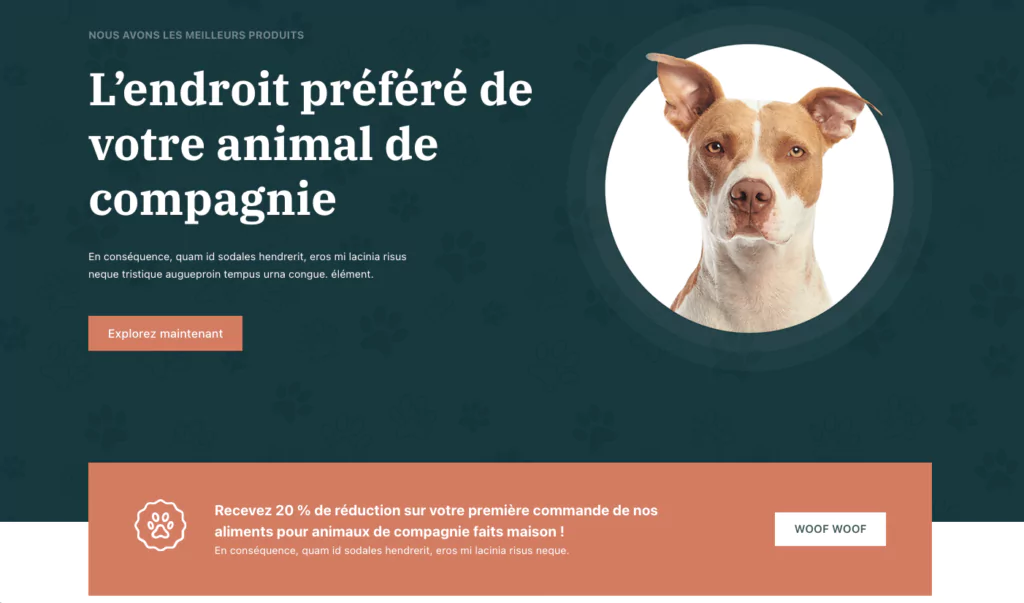 1. Install WPML
WPML comes with a lightweight Installer plugin, which allows you to register your plugin and install any WPML components you might need. For most sites, you'll need the WPML core and String Translation plugins.
If you're running an ecommerce site, WPML also includes WooCommerce Multilingual, which allows you to translate products, product attributes, variations, and more, plus set up multiple currencies.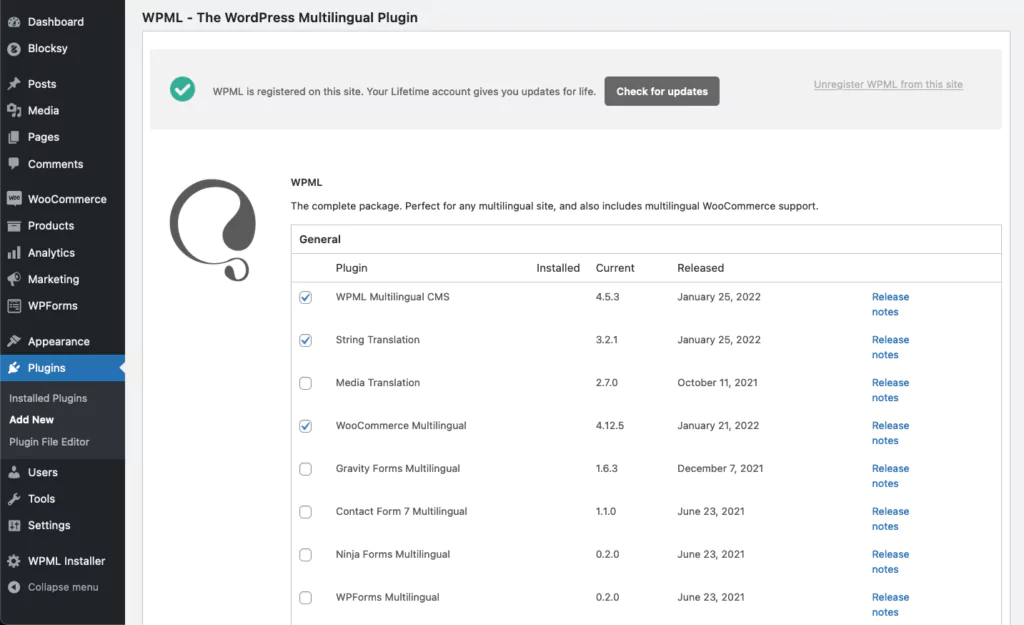 2. Set Up WPML
WPML's setup wizard walks you through all the important steps of setting up a multilingual site: choosing your site's languages, deciding how to format your URL, and enabling one of WPML's translation modes.
Translate Everything mode automatically translates all of your site's content as you publish or edit it. This means you can simply create content, and WPML translates all of it in the background. When you edit a page, WPML updates the translations.
After completing the setup wizard, sit back and relax as WPML automatically translates your site. Plus, you can rest easy knowing that you own your site's translations – they're saved in your own database, not in a company's cloud.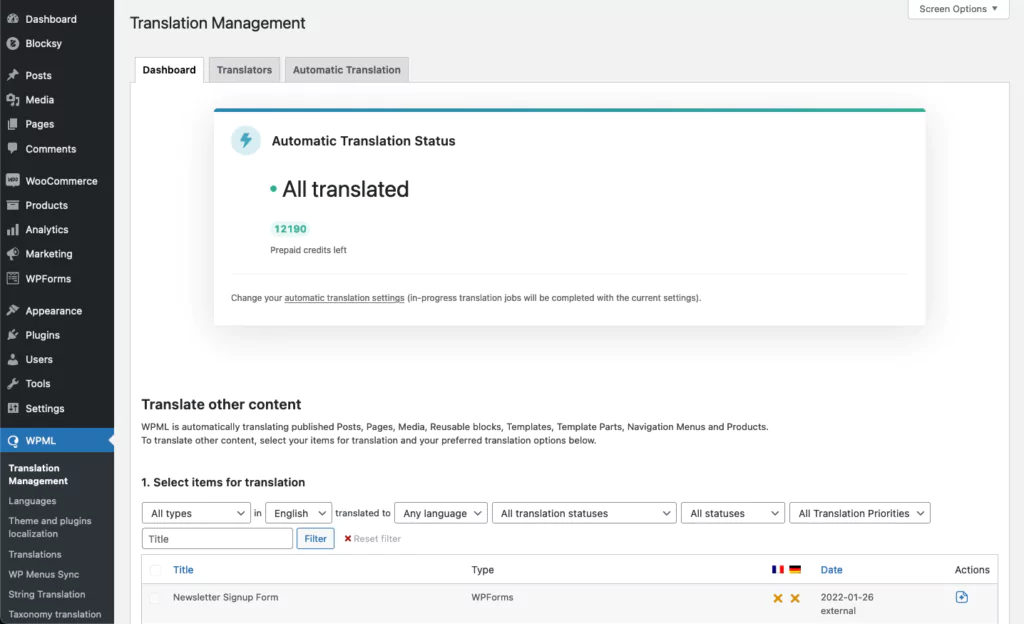 3. Review Your Translations
Machine translation has come a long way over the years, and WPML offers your choice of Microsoft, Google Translate, and DeepL to power automatic translation on your site. However, it's good practice to check your automatic translations for accuracy and fluency.

Translate Everything mode gives you the option of holding your translations for review before publishing, publishing then reviewing, or skipping the review all together. No matter which option you choose, you can always go in and edit your translations, or hire a certified translation reviewer to do it for you.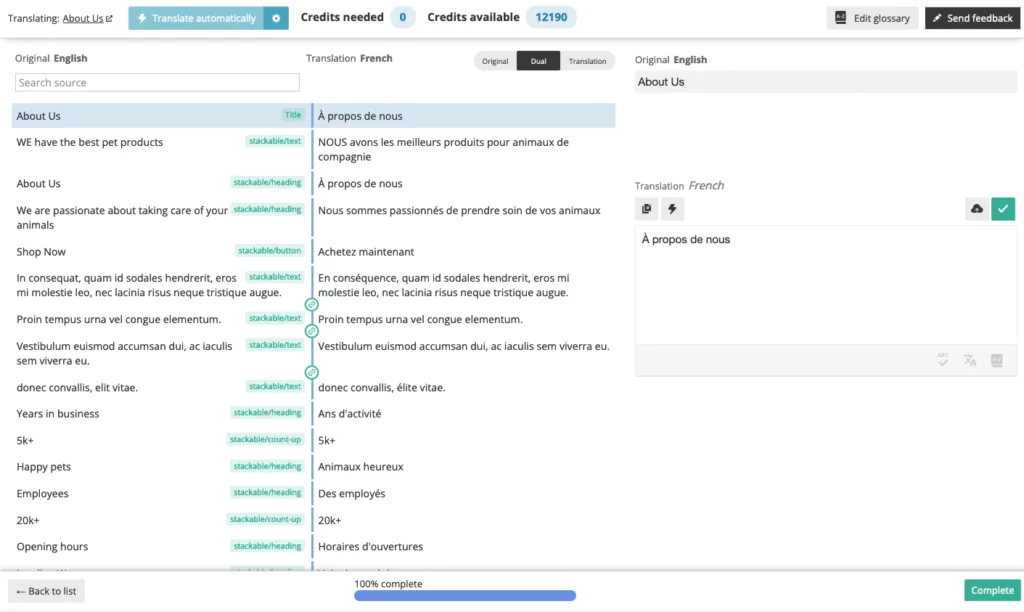 Reliable Compatibility with WPML and Blocksy
Together, Blocksy and WPML are committed to ongoing compatibility with each other. This means you're less likely to experience issues when using them together, and any issues that do pop up are quickly resolved.
It's a reliable, and surprisingly easy option to build a multilingual site and take the next step with your business.