The WordPress block widgets are the newest of the original WordPress features that everybody's been talking about. By everybody, I mostly mean WordPress pros and theme developers.
However! This doesn't mean that casual users and site owners shouldn't familiarize themselves with this feature as well.
In fact, the WordPress block widgets change a lot in how we're all going to interact with our site sidebars going forward.
In this quick guide, we tell you all about what block-based widgets are and how to use them effectively.
The story behind WordPress block widgets
This one's quite simple, actually. Ever since the block editor was introduced in 2018 – back then called the Gutenberg editor – its roadmap has remained pretty clear. What started as a new interface for crafting blog posts, was soon on track to become the main interface for all site-level customizations – both in terms of design and content.
On the other end of the spectrum, widgets have been one of the oldest original features of WordPress. The way they work basically hasn't changed from WordPress ver 2.2 when widgets were first introduced.
The WordPress block widgets are a new spin on things and an attempt to marry the classic way the widgets used to work with the new block interface.
On the surface, the new widgets are quite straightforward. Instead of you having to work with an archaic interface like this: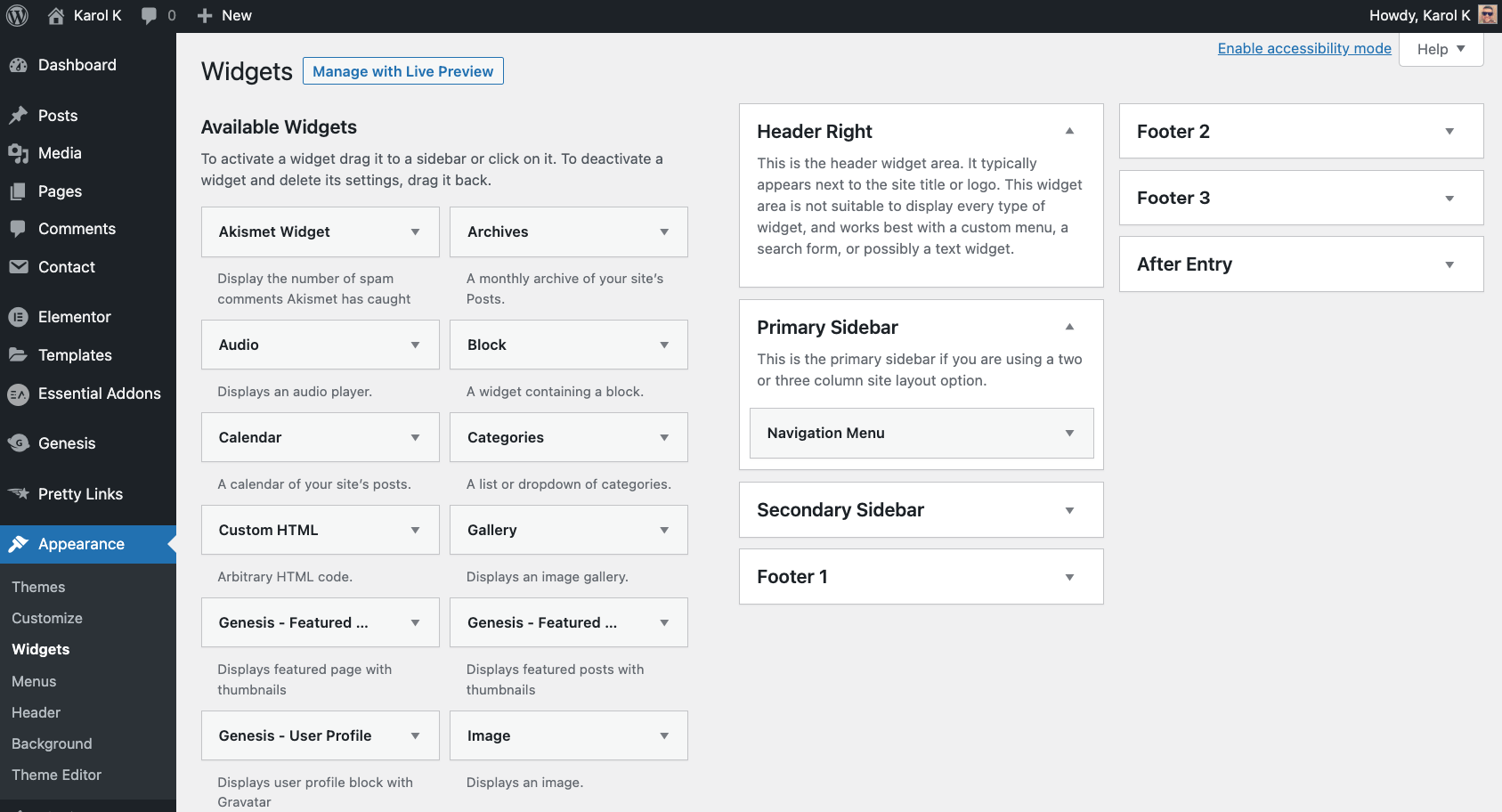 You're getting a refined experience that allows for much more freedom in terms of what can be called "a widget" and how that something should work: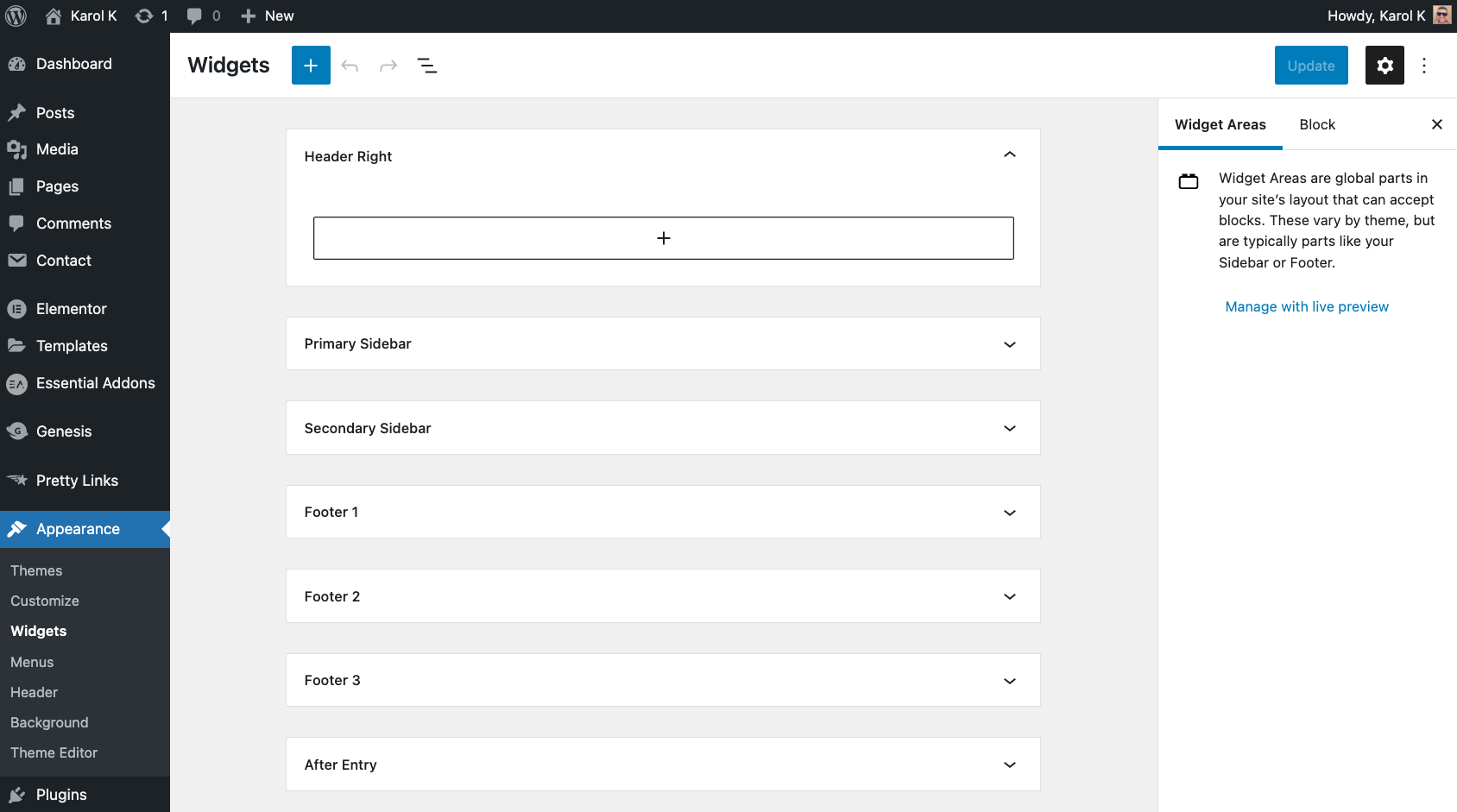 Are WordPress block widgets on your site already?
For the block widgets to work, you need a couple of main elements on your site:
You have to be running at least the 5.8 version of WordPress.
Your current theme has to have built-in support for the new block widgets.
None of your plugins can be disabling the feature.
First things first, block-based widgets were first introduced in WordPress 5.8. So it's obvious why you'd need that version or a later one to make them work.
Second, your ability to use the block widgets depends mainly on how your WordPress theme handles them. If you're on any of the current or past default WordPress themes and you keep them updated, then you're covered here.
If you're on a third-party theme, then check with the developer to make sure that they've implemented support for block widgets.
⭐ In case you're wondering, yes, Blocksy is fully block-widget enabled.
With the above two checked – WordPress 5.8 and a compatible theme – you can go to Appearance → Widgets and see the new interface for block widgets: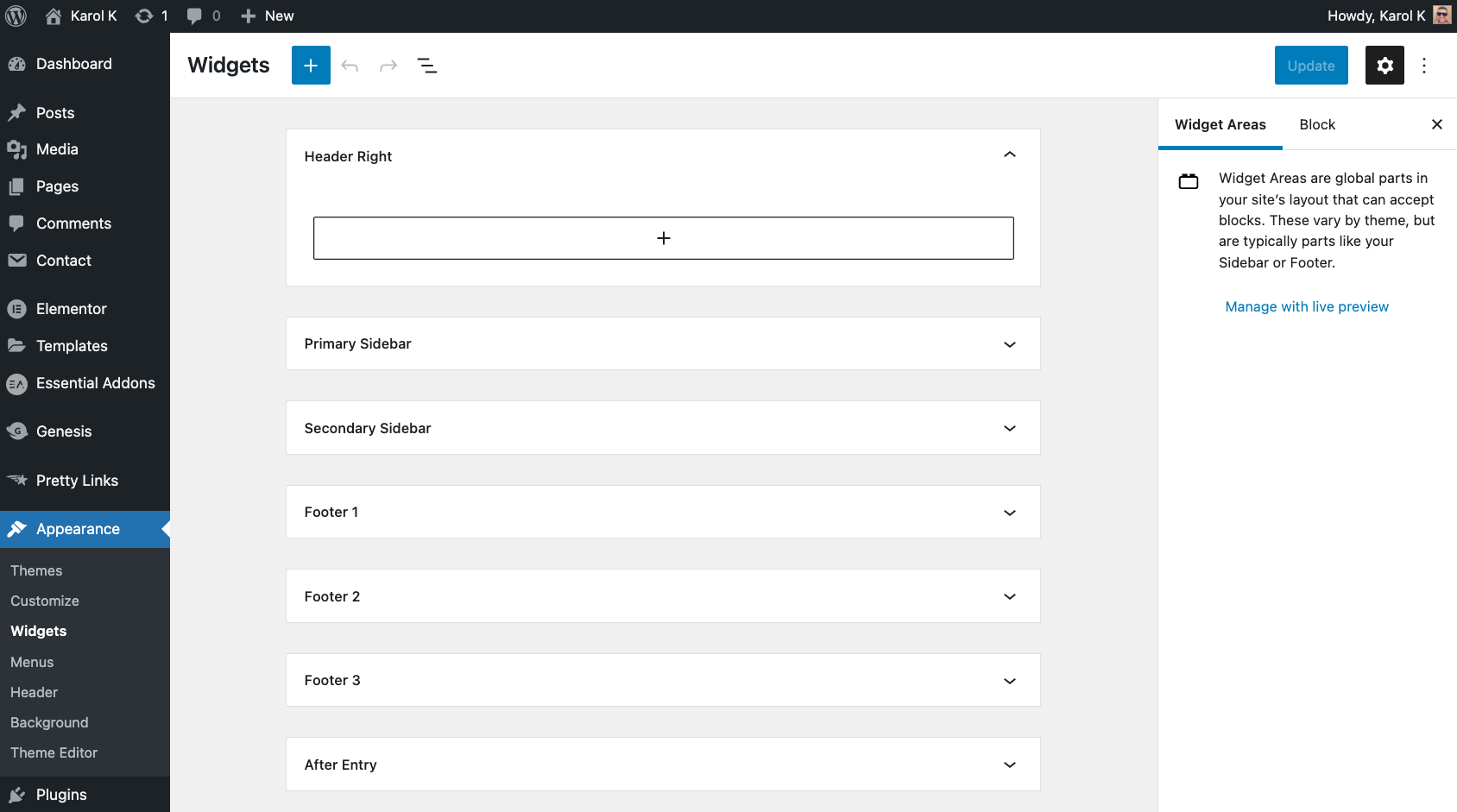 If it's not there, double check if any of your plugins isn't disabling the block widgets for whatever reason. For example, if you're using plugins that do some advanced work on your sidebars, then those plugins might need the old widget mechanism in place to function. Therefore, they can be actively disabling the new block widgets.
The best way to troubleshoot this and get the new widgets working is to deactivate your plugins one by one and see at which point the new widget interface will appear.
Will my old widgets continue working?
The main worry that people have when switching over to the new widgets is whether they'll keep their current widgets and their placements.
The short answer is yes. Your old widgets will continue working.
The way WordPress handles this is very similar to how it handled your classic blog content when switching to the block editing interface. That content simply got stored inside a "classic" block. The story is similar with widgets.
How to use the WordPress block widgets?
To get started, go to Appearance → Widgets. You should see something like this: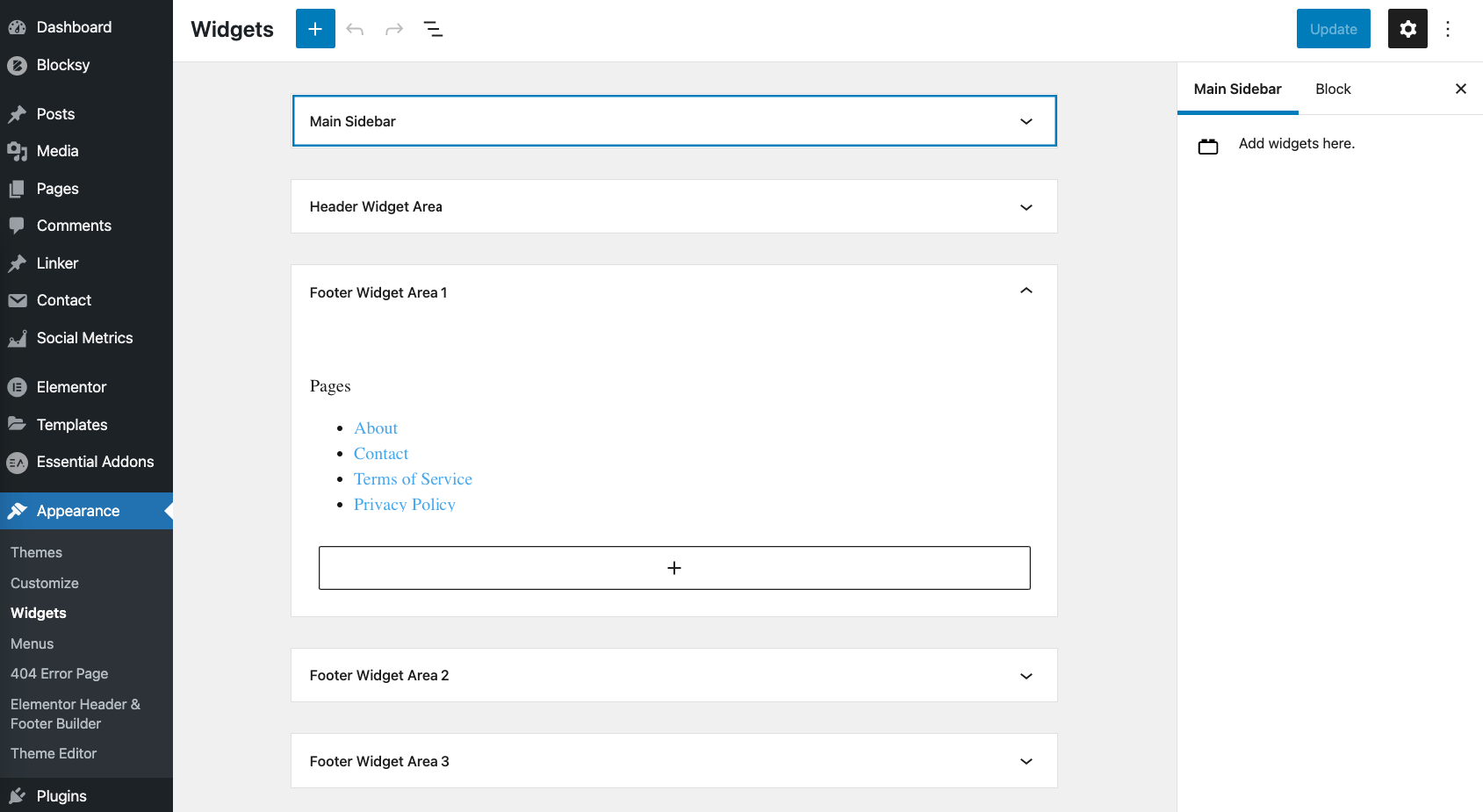 The things you see there specifically are all your current widget areas and individual widgets, which have been included into the new block-based interface. Or rather, what you're actually looking at are the previews of your widgets.
You can still customize the old widgets by clicking on them and adjusting their parameters using the classic interface.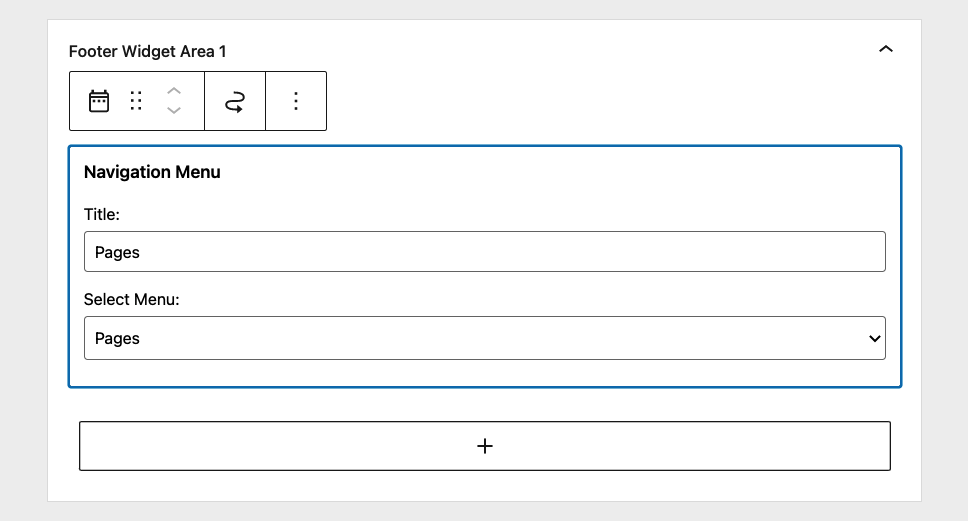 To add a new widget, click on the "+" button under any given widget area. You'll see the familiar block selection box.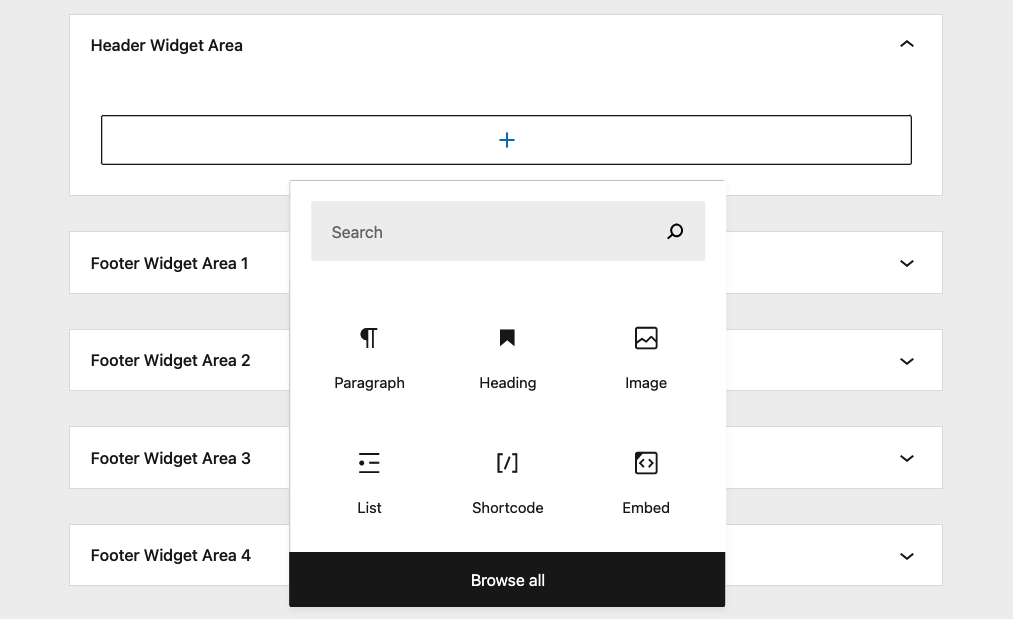 The true power of this interface is that the catalog of available blocks is not restricted in any way. Basically, everything you could add to your posts, you can now add to widget areas as well.
This includes:
all plugin outputs that have its own blocks,
text paragraphs,
social media content and embeds,
images and videos,
lists, quotes, and tables,
advanced content like covers, code blocks, buttons, and more.
This gives you much more freedom vs what you could do with the classic widgets. Even though not all plugins support block widgets right now, developers will gradually integrate their solutions with this new functionality.
Other cool things you can do with block widgets
Working with the native widget areas of your site is one thing, but those block widgets can be useful for more things.
For example, the Blocksy team has made an effort to also introduce block widgets into the header and footer builder modules of the theme.
If you're using Blocksy and want to see how this works, go to the Customizer and then into Footer. Once there, click on any of the widget areas in your current footer. You'll see a message welcoming you to the new block widgets.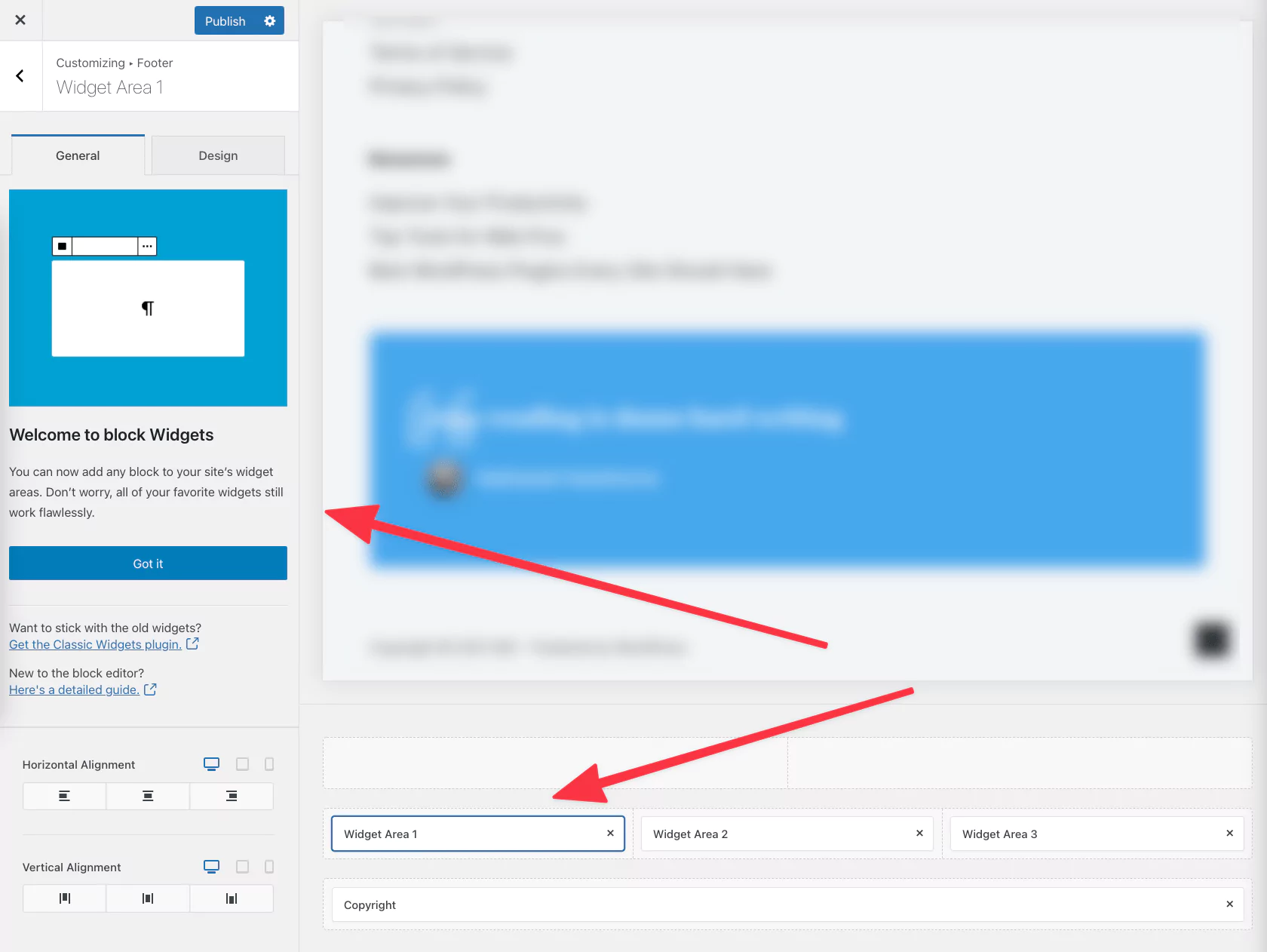 Each of the widget areas features the same block-based interface for adding new sections: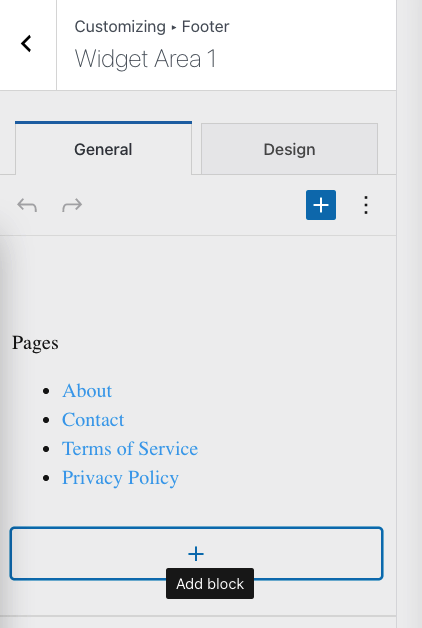 The same thing goes for the Header section of Blocksy's Customizer panel.
🗻 By the way, this is just the tip of the iceberg when it comes to Blocksy's features and abilities. Go here to check out what else this free theme has to offer. 🤗
📹 If you prefer a more visual form of presentation, here's a video that takes you through all of Blocksy's features in relation to WordPress block widgets:
How to go back to the old widgets?
Okay, while this is not a recommended long-term solution, you might want to keep using classic widgets in some scenarios for the time being.
Maybe some plugin is essential to your workflow and it doesn't work with block widgets yet. Maybe some other custom code that you got written doesn't cooperate with the new widgets, etc.
If you find yourself in a scenario like that, you can just install and activate the "Classic Widgets" plugin (find it via your WordPress dashboard). As soon as you do that, the old widgets interface will come back.
What do you think of the new block widgets? Are you excited to use them on your site? Let us know in the comments section below.
More resources: