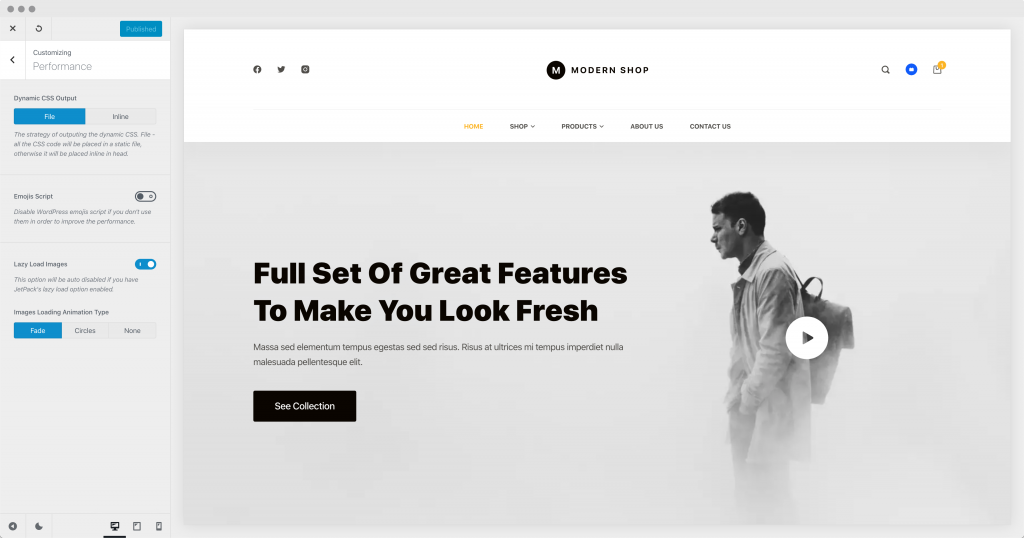 You will find the Performance options in Customizer → General Options → Performance.
Dynamic CSS Output
This option controls how the dynamic css is handled. By default, with the File mode, the global dynamic CSS code will be saved inside a global.css file and this file will be loaded on the site's frontend. Alternatively, you can put all the CSS inline in the HTML (with Inline option), but this comes with the cost of re-computing it on each page refresh and that is why we strongly recommend against it.
One more very important advantage of the File strategy is the fact that it uses a regular CSS file, enqueued with standard WordPress methods. That way, it can be cached by browsers safely and it can be merged with other stylesheets by optimisation plugins (Autotimize, W3 Total Cache, Fast Velocity Minify, etc), if you'd prefer them to do it. That only gives a notable performance boost to the site, which definitely can't be achieved with inline CSS.
Lazy Load
Tthis option controls how images are loaded on your website. By default this option is enabled and all your images will start to load only when they should appear in the viewport. Note that this option will be auto disabled if you have the JetPack's lazy load option enabled.
You can customize the images loading animation type and chose from one of these options:
Fade – images will appear with a nice fade in animation as you scroll.
Circle Loader – inside the images placeholder will appear a nice zooming circles effect while the image is loaded.
None – no visual effect will be applied, images will appear instantly as you scroll.
Emojis Script
WordPress by default is loading a library in order to display the emoji characters. If you don't use emojis on your website than you can disable this functionality in order to improve performance.